Synthetic Reality
News and Events
---
May 2008 WoS Tactics debuts in Well of Souls A96
WoS Tactics is a multiplayer tactics game played inside WoS. You can read more about it here. It is a multiplayer turns-based game played on a grid.

A WoS Tactics battle is a special kind of 'scene' that you initiate and other players drop into if they wish to take part in the battle (or just be spectators). Up to four players battle at once, with each player starting with an 'army' of pieces, defined by the World Developer.
All assets (pictures and sounds) are downloaded separately from the Developer's website, so a world's Tactics Pieces can be updated independently from the world itself (and Tactics can then also be shared by multiple worlds).
---
May 2008 Well of Souls A96 Released
After some delay, Well of Souls version A96 has been released. Please see the release notes in the forums for all the details, but one random addition is the (optional) HotKey Button Bar (and the ability to give each spell an image to depict it)

This feature will default to 'on' and can be disabled via the Book of Options (It also requires that your WoS window be at least 1024 pixels wide). It provides a graphical depiction of your FKey bindings. Clicking on a button will then select that spell or item. Right clicking on an item will 'use it on you'
---
June 2007 Qwerks Goes Bye-Bye
The 3rd party credit card company I have used for years, Qwerks, was apparently bought out by another company, eMetrix, a year or two ago -- and has finally stopped processing payments under the Qwerks name.
Hopefully I have caught and updated all references to Qwerks.
Some other changes being made at this time:
The $10 donation is being retired. It confused people apparently (who thought they would get a Golden Soul in return.), more than it enthralled anyone. The Amazon Honor payments still exist as a means to send me random amounts of money for nothing in return :-)
The Warpath 97 registration is being retired. What I *think* that means is that Warpath 97 will become an 'orphaned' game, and Warpath:21st Century is officially free (has no shareware timeout). Though I reserve the right to someday convert WP:21 to use the Golden Soul system.
---
2006 TurnAbout Gets Real
The TurnAbout Toy for Arcadia is now a full featured programming environment for you budding programmers to get your toes wet programming multiplayer games with relatively little hassle.
Since I last wrote, There Inc. has become Makena Technologies (but still does www.there.com which is still way cool, but now we also do some other cool things, including something called Virtual Laguna Beach for MTV)
Ben is off at college now, but still coding away. Arcadia is up to 12 toys, Rocket Club has progressed.
---
1/9/2003 There.com announces its existence
I've had a secret day job for the last year or so, working on a cool new product for www.there.com If you are reading this, then you would definitely find that product interesting, so check it out!
---
1/7/2001 synChess Gets Documented Here
synChess has been around for awhile already, but I neglected to mention it here :-) Sorry about that. It's a multiplayer chess toy for Arcadia, and lets you run 16 tables per channel. It's quite fun. There is a chess bot if you want to play solo (and win!).
---
1/7/2001 Empyrion Gets a Name
My wife came up with this name (but I love it, honey!). It's not very original (yet another real-time strategy game), but you get to define your own units and maps (or at least you WILL be able to do that after I finish it)
It doesn't have it's own page yet, but you can read about it (and get it) via the Arcadia page.
---
1/1/2001 Arcadia is Born
I renamed "synToy" to "Arcadia" to better describe it, heh heh. Nah, I just needed a cool name which was more of a place name and less confusing with the toys themselves. On the one-hand, of course, it is a play on "arcade" (which is appropriate, considering what Arcadia is), But it works on a couple levels, perhaps subliminally controlling the nature of the community I hope to attract.
Come be an Arcadian today!
It's free, but it's nag-ware. Every hundred hours (of gameplay) it will remind you that I cheerfully accept donations. If you were to re-donate $10 every 100 hours (I can DREAM, can't I?) that would be 10 cents an hour.
---
9/5/2000 Synthetic Reality Gets a New Home
A new EXPENSIVE home at verio. If all went well you won't even notice... Well, no one noticed. cwestpha in particular didn't notice my warnings about loss of BB data during the transition. But that doesn't completely surprise me :-)
---
11/11/1999 WoS is FREE - Voluntary Donations Accepted
As many of you know, I have been waffling about whether or not I would charge a shareware registration fee for Well of Souls. I really didn't want to, but I do incur some expenses on the project.
Well, I've made my decision: WoS Will Remain Free (and I will eventually remove or alter appropriately the activation code stuff so as to not send a mixed message.)
But, I could still use some cash now and then, so I have also created the Voluntary Donation Program. This lets people who feel like it, send me ten bucks as often as they'd like to. It isn't designated to a particular game, just a general donation. You don't GET anything back for it, but my gratitude.
I don't expect a lot of donations, but hopefully I'll get enough to cover costs. It's an experiment :-)
---
11/11/1999 synTOY Preliminary Demo Appears
There's a new game in town - synTOY. (Now known as Arcadia) I kept having ideas for really small games (which I hereby dub 'toys') that only took an evening or two to code. But the underlying support libraries were complicated enough that it required lots of wheel reinvention which sometimes made me lose interest in a project.
Enter synTOY. This is a 'framework' which has all the reusable stuff (MIX support, chat, sound services, etc.) in it, and loads individual toys into a special toy window in the top half of the screen.
I have two half-finished toys included in the synTOY download: synPOOL (a 3D pool game), and synJET(a 3D vehicle/mission simulator thingy). Neither is multiplayer yet, nor finished in the game sense.
It would be inappropriate to call this 'beta test' but you are free to muddle your way through what I've got so far (Note: there is no documentation!) and see if it looks like a good direction to go in or not.
---
10/18/1999 PLAY ONLINE MAGAZINE IS NICE
Let's all say thanks to Kaito Okutani of Play Online magazine (http://www.play-online.com/) for his nice article about Well of Souls in the November 1999 (#11) issue. (pages 98 and 99)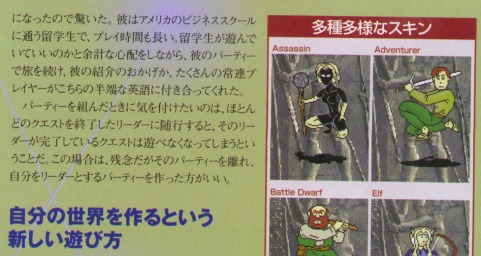 Notice our pal Josh Wort's hero skins got their very own sidebar! Sorry about the poor quality of the scan, but my scanner decided to be broken the first time I was really excited about using it!
---
9/10/1999 MIX SERVER FACELIFT
The MIX GAME SERVER has learned a few new tricks. Right now this will be of most interest to Well of Souls players, but Warpath 97 players will get the benefit of this soon enough.
MIX can now be launched directly by the game (so if the public server list doesn't have what you're looking for, make a new one!)
MIX tells you which map/mod is being played (no more guessing which WoS world is in play on a given server)
MIX has a couple 'admin commands' to send messages to players, and disconnect people, as needed
MIX can figure out which master server to report to, so the list of public servers is different for WoS and W97.
---
7/31/1999 WARPATH CLASSIC GOES FREEWARE!
As of Today, July 31 1999, the original version of Warpath, hereafter referred to as Warpath Classic, is a FREE PROGRAM. The program itself and this web site are still riddled with comments about how you have to register it, but you can ignore those comments. The program is available for FREE DOWNLOAD and is the complete version you would have gotten had you registered before it was free.
Technically, we still accept registrations, but now they are totally voluntary donations and you will NOT get a floppy disk (or anything else) in return. But we'll be happy to cash your check.
---
7/25/1999 Well of Souls is now 25 versions old!
Yes, the game in test is now up to version 25. Amazing, isn't it! Kathy's foot feels a lot better, but still isn't painless. It won't stop her from tap-dancing at the upcoming Santa Clara County Faire, though. See you there! (we'll be the ones going home in an ambulance)
---
5/25/99 New Photos of Bruised Foot!
My lovely wife Kathy bruised her foot (a vacuum cleaner was involved)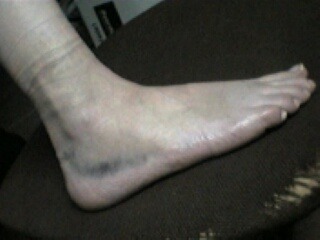 Unfortunately, this has led to her being unable to take part in several long-looked-forward-to activities.
Share her pain by admiring the lovely purple lividity! Doctors say she WILL be able to play the violin again!
4/10/99 New Well of Souls Patch (Alpha 14)
Just put up a new version of Well of Souls. This includes the new Guild Diary and many other features. You can read about it on the Well of Souls Beta Test Page.
---
3/1/99 MIX Goes Public
There's a new MIX Game Server in town. This one knows how to check in with the Synthetic Reality MIX Master Server.
Well of Souls players (and maybe W97 players as well, once the dust settles) are given the option to play on 'any public MIX server.' If you have registered your MIX server as 'public' then it will appear in the list of public servers.
How do you register? Just run a copy of MIX on your PC, and click the checkbox "Register as Public Server" You can unregister just as simply.
---
2/27/99 PacBell Misses Deadline!
Grrrr... After waiting almost 2 months, my ADSL line was NOT installed today, as promised, with nary a phone call of apology. I literally spent the entire day sitting by the door, waiting like a lost little puppy for the ADSL man to arrive with his magic basket.
---
1/1/99 Well of Souls Open Alpha Commences
In the fine tradition of announcing news items months after the fact, Synthetic Reality Press is pleased to announce that Well of Souls has entered an Open Alpha phase. (That's like an Open Beta phase, except the program isn't functionally complete even, so everything changes a lot!)
So, if you want to be an Alpha Tester (well, ok, we call it Beta Test just for familiarity), hop on over to the WoS Beta Page and sign up
---
12/7/98 synBirds Flocks to Synthetic Reality
It's just a silly program which draws little squares on a pretty picture. But the squares fly around in a 3D fashion, following independent AI decisions reminiscent of flying animals (birds or bees, you be the judge)
Anyway, give synBirds a try -- it's FREE!
---
12/2/98 Birth of the BB
Woo hoo! Thanks to Richard Rice for showing me this terrific Bulletin Board software. I feel like a real web site now!
---
12/1/98 Compuserve Eclipsed
Well, it's official. The Compuserve we knew and loved has been swallowed by the evil AOL empire. Much as they would like us to believe they will run the services independently, you *know* that is just spin control as they hope to lose as few members as possible during the merge. The first casualty in this war was the Compuserve mailing list, which has now been picked up by the AOL spam services. I now get almost as many pornographic solicitations on Compuserve as I do on AOL.
But I write today of the second casualty. AOLServe will no longer support the SWREG shareware registration program. In fact, this was probably a good idea on their part as it couldn't have been worth the effort to continue it. I admit I got a small thrill receiving a monthly check from Compuserve, but that will pass...
Let's all observe a moment of silence in honor of Compuserve, a pioneer in the industry and worthy of our respect.
---
11/10/98 Well of Souls gets Snow!
I added some actual special effects to WoS today. I am most pleased with the weather module, snow in particular. But the 'rippling lake reflection' is also quite cool, as is the fluid tectonic quake motion.
So it looks like a white Christmas for Well of Souls, after all.
---
10/1/98 Well of Souls Hall of Heroes Opens!
Ask for freebies, and freebies you shall get. But it became clear from the start that some people generate So Much great free stuff for me, that it isn't fair of me to just take and take and take.
So, they get a chinsy honor-roll page in the Well of Souls Hall of Heroes!
Our first hero, Josh Worts, deserves another link here.
---
9/1/98 Synthetic Reality Solicits Freebies
The Well of Souls engine is getting dangerously close to completion, no matter how much I try to distract myself, it is getting ever closer to the day where I really ought to have used the tools to create some actual content.
But instead I have come up with a plan whereby YOU can create that content FOR me! So if you've been looking for an open-ended RPG engine wherein to plug your own creative talents (in the fields of art, text, or music) then check out the WoS Art Submission page!
It's FREE! (for me, at least)
---
8/1/98 synVista takes the world by storm
Available as freeware (set your expectations accordingly), synVista is the child of my trip to Oregon without a computer. We drove by trees for hours and hours and I wanted to do a real-time ray-tracing program, and a fractal world with trees. Anyway, we got home from the trip and synVista appeared a few hours later.
It's FREE!
---
6/4/98 Warpath 97 Gets Five Star Review!
Yep, it's official! A dispassionate 3rd party said something nice about us! Read all about it!

And some of you will be glad to know (I'm not saying who, exactly) that I plan to fix some of those AI problems, Real Soon Now. And if you're reading this, why not stop by and check out the pre-alpha-demo of Well Of Souls, the game we're working on now.
---
6/1/98 Galaxy Simulator Debuts
"How do I waste both mine and my computer's valuable time?"
Sure, we'd all like to know how to do that, but today's computers are Just Too Powerful to ever seem slow... or ARE they?
Put your computer to the GALAXY CHALLENGE! See if you can get a set of randomly placed stars to coalesce into a rotating disk before the end of summer vacation!
It's FREE!
---
4/1/98 MIX Server Hits The Web
"How do I play more than two player Warpath 97 on the internet anyway?"
If this is what you've been asking yourself every night this year, well I finally have an answer! The Synthetic Reality Game Server Thingy - MIX. This is a simple program which you run on a network-connected PC. Then you and all your Warpath 97 buddies start up your Warpath 97 games, and tell them to TELNET to the address and port of the MIX server of your choice. (each copy of MIX running on the same PC needs a unique port number, and you ought to run it on the PC with the best Internet connection of your group.)
It's FREE!
---
The hotly awaited, release version of Warpath 97 went online today to scattered applause around the cosmos. When asked for a comment, author Dan Samuel had this to say: "Well, it's like, still 1997, right?" The InterNIC has been alerted to expect a massive increase in download traffic as the masses amass it.
Seriously, a lot of effort went into this and I'll bet you'd like to give it a try and just generally allow yourself a whole heckuva lot of enjoyment.
It's SHAREWARE!
---
1/6/97Synthetic Reality Registers its Domain Name
Joining the ranks of businesses on the Web, Synthetic Reality today blew $150 registering its official internet domain, hereinafter referred to as "synthetic-reality.com" (don't forget the hypen!) Tabnet made it painless to do so for $50. If you're as clueless about the process as I was, check out the Internet Gold Rush site.
---
1/5/97 Web Site is finally up, sort of...
The big news today is that there really isn't any big news. The Web Site achieved a basic level of functionality today. Also, we more or less established the beta test policy for the upcoming game Warpath 97, but it's still not ready for beta.